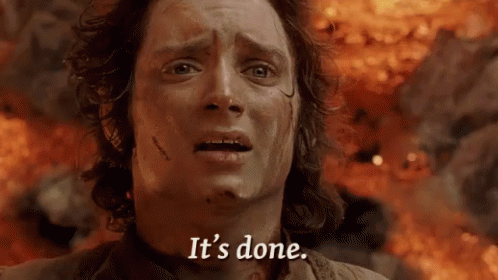 I finished a book on Friday. Though finished is probably not the best word for it. What I did was get to the end of a first draft which, anyone who's ever written a book will know, is most likely terrible – full of plot holes, clichés and generally bad writing. Or is that just me? Getting to the end of a first draft is not really an ending but the beginning of what is often a long and frustrating process to get it into something you wouldn't mind other people reading.
But some of the other things I've been working on recently are further down that road and it got me wondering, how do you know when something is actually done?
A couple of weeks ago I was sent the proofs of my book No Place Like Home to check over, and though I didn't make any huge changes, there was still the odd word change, or cutting a line. Each time I've gone over the book, something has changed, no matter how minor. These little tweaks won't change the novel but they still seem important to do. But how long can you keep doing that? Not anymore, now that I've sent it back.
I remember tweaking things from my first novel, Stolen, after it had been published, using a pencil to cross things out and add things in just before I was about to get up and do a reading. But the book itself was done. I could only make changes to what I read aloud. But maybe that's how it should be. I can look back at my work and cringe and wish I'd done it differently, but that's just showing that I'm (hopefully) getting better as a writer, and the books as they are show how far I've come. In theory, I can change Murder in Slow Motion as much as I want because it's self published. But should I? Catching typos is one thing, but altering the book itself seems wrong.
So ultimately, I had to stop messing with the manuscript and send it off, knowing it's as good as it can be at this time. But how do you know when that is?
I was working on a play recently, using competition deadlines as motivation to get it done. I was quite proud of myself for putting the work in – coming up with the idea, developing it and writing it in just a few weeks. I sat up late redrafting and redrafting again. But it got to the point where I couldn't see the wood for the trees and had to put it aside, even though it meant missing a deadline.
But a week or so later, I read it through again and realised that it wasn't as bad as I thought, and with a few more tweaks, I was able to send it off to another competition. I'm still not sure it's done. I'm sure I will mess with it some more. But there's a fine line between done and not done. If I waited for perfection, I'd still be working on my first book. Sometimes you need to let it go, send it out, and let someone else tell you when it's done.